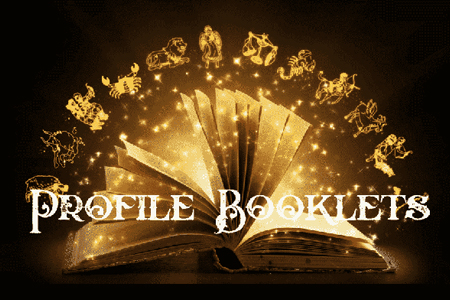 Our profile booklets are printed booklets, based on birth information, that help you to define whatever your specific need is. They're fun, insightful, informative, and make excellent gifts or keepsakes.
Choose from the categories described to order a profile for your partner, friend, family member, co-worker or even yourself and discover what the future holds.
Personal Astrological Horoscope – What do the stars have to say about you? Discover your true potential. An in-depth overview of who you are, and what you're really about. Seeing is believing!
"Star Mate" – A Lover's Horoscope – What is your combined compatibility? Find out how to avoid individual relationship pitfalls. This profile is a comprehensive breakdown defining the inner dynamics of your most intimate partnerships.
Solar Return – The sun's annual return to the exact place it was at the time of your birth reveals your soul's itinerary for the coming year. This informative profile gives you a "compass" in planning the year ahead.
"Star Baby" – A candid profile of your child that keeps you way ahead of the parent game. Focus on your child's positive qualities as well as his/her challenging traits. Discover his/her special skills.
Life Progression Chart – Change is a forever constant… It doesn't stand still!!! A revealing month-to-month master guide that keeps you easily and elegantly well-informed.
Numerology – Everything in our universe operates in predictable cycles, based on natural law. These cycles are known through the study of numbers. The science of numerology assists you in discovering your strengths, weaknesses, and deep inner needs by using your name and birthday. With this knowledge, your possibilities are endless!
Friendship Horoscope – Enrich and protect the gift of friendships. Bring fresh, new insights into your personal or professional relationships. A complete analysis, professionally defined.
Please click the "order profile booklet" tab on this page. You'll be redirected to the order page where you will choose the profile booklet you would like and fill out the required information. Please note, our system will not allow you to place your order until all the required information is filled out or to order more than one profile booklet at a time.
All Profiles are $70.00 (shipping and handling included).