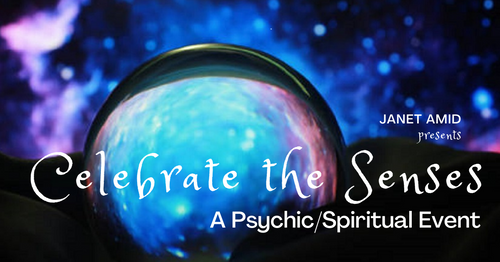 MY next CELEBRATE THE SENSES EVENT: A Psychic / Spiritual Event presented by local astrologer intuitive and life philosopher, Janet Amid will be in Sunday MARCH 19, 2023 at The Premier, 4480 Heatherdowns Blvd. Toledo, OH
Doors will open 9:00 am to 5:00 pm at Entry is $7.00 (cash only). Readings begin at 10 AM until 4:45 PM - Healing Meditation at 9:30 AM
Astrologers, psychics, mediums, tarot, clairaudients, clairvoyants, shaman, American Indian readings, palmistry, angel oracle, angel card readers, and healers will be available for private sessions;15 minutes for $25.00 (cash only). This event also features many unique and specialty vendors offering jewelry, soaps, clothes, oils, stones, crystals and more. Most vendors do accept credit or debit
*A special note to all of you!
~Welcome to my extraordinary Psychic /Healing event and thank you all for your patronage. This event is for those seeking answers. Or for just understanding your soul's purpose? Possibly for healing? To enjoy & have fun? Gift shop? Curiosity? Whatever your reason or desire, we hope to hear good things about your experience. Janet
*Introduction Our Amazing Readers!
~ASTROLOGER~
~JANET AMID - HEREDITARY ASTROLOGER, NUMEROLOGIST & TAROT - WRITER - TV PERSONALITY - COLUMNIST- 15 min readings only. Limited Schedule (Janet's reading location is the coat closet in the lobby)
~PSYCHICS & MEDIUMS - CLAIRVOYANTS~
~ APRIL - ORACLE/ PSYCHIC READER - SPIRIT READER/NATIVE AMERICAN - Back by popular demand, A gifted psychic. A true Sensitive.
~CONNIE BERETTA - CLAIRVOYANT - MEDIUM- Connie can help you connect with your loved ones that have passed on. Gifted in the art of intuitive healing as well as psychic awareness, her gifts are from beyond.
~DAVID YOUNGMAN - MEDIUM - PSYCHIC- Well known, gifted in the art of speaking to the spirit world. We are honored to have him with us!
~SHARON KAY - PSYCHIC - SPIRIT MEDIUM - Sharon works with her spirit guides bringing messages from loved ones. Helps you to understand present day situations, as well as future opportunities. Tunes in to your past lives, bringing messages and guidance.
~LINDA DIX - PSYCHIC - MEDIUM - For many years Linda has astounded many with her gifts of medium-ship. With an extensive & loyal following, she combines her heart-felt guidance with that of loved ones that have passed. (Due to health-related issues, we cannot guarantee that Linda will be here)
~DONNA BRETZ - EMPATH - MEDIUM - uses Oracle Cards as a preferred catalyst for your questions. As Spirit leads, Donna, will bring forth channeled messages from Spirit Guides/Angels for you. She also uses numerology and color/auras during reading. Donna has been reading throughout the country and internationally for over 35 years. Please bring your questions and an open mind to your session
~SHARON WILLIAMS - PSYCHIC - REIKI MASTER - Sharon's many years of experience have taken her to a higher path; her specialty is being a "psychic sounding board".
~ LINDA HEINEMAN - PSYCHIC- TAROT- MEDIUM - Linda has been a reader for over 50 years- A true gift!
~PALM READER
~ MEGAN -PALMISTRY - Tarot, Medium-ship abilities. Certified Reiki Healer
~LADY TALLISEN - PALMISTRY - ANIMAL BONE READINGS - The best of the best - My dear friend Talison, we are so honored to have her with us.
~PAULA - PALMISTRY -TAROT - New to our event - We welcome Paula - Gifted in her craft.
~CARD READERS~
~ McKenzie - PSYCHIC, ORACLE CARDS- New to our event. Welcome!
~NICK HENDRY - (Faunus) - TAROT ORACLE, ENERGY VIBRATION CARDS - Nick has been a Cartomancer for over ten years. Using his abilities to read he offers guidance and insight to help you better understand your path, decisions and questions that you may have in your life.
~SANDY Z - TAROT - ORACLE, RUNES Welcome - Sandy began her journey in October 2019 as a psychic reader and now has extended her expertise to lenormand readings.
~ CAROL GALLARDO - TAROT, PSYCHOMETRY- 30 years in the field, an intuitive reader with the gift of picking up on one's energies, deceased or alive, from their personal objects.
~LYNN GERSTACKER - ANGEL CARD ORACLE READER - MEDIUM -PSYCHIC - PENDULUM READINGS - bridges the gap between our world and the Spirit Realm. Getting messages from a variety of sources, Lynn can 'see' or 'hear' a loved one that has crossed over. She works with the energies of love, light and prayer to ensure that only positive messages come through. (She may or may not be with us, fingers crossed)
~ SHARRIE -THETA HEALING - ORACLE CARDS - ANGEL READINGS - New to our event - Welcome!
~RUTH LAFARTHA - - PSYCHIC - ORACLE READER - Intuitive Empath, psychic reader. -
~MARY MAGUIRE - ORACLE CARDS, TAROT, CRYSTAL PENDELUM - Intuitive reader -
~SHAMANS TAROT (Don) - TAROT & ORACLE- RUNES - In the metaphysical field for over 40 years - through spirit and meditation he can connect with those that have passed.
~HEATHER - NEW TO OUR EVENT - Also known as Earthwindwalker - Owner of Earth Soul Alchemy - Healer/oracle reader. A Soul song seer spiritual life coach, A divination practitioner for over 20 years. We are so excited to have Heather with us sharing her years of experience and talent!
~SHAMAN -
~COREY SUE - SHAMANIC HEALER - PSYCHIC MEDIUM - TAROT - Gifted with insight and natural abilities - New to our event - Welcome!
~ROSE WOLF - CELTIC SHAMAN - who has been practicing for 19 years and is an empath as well as a claircognizant psychic. Tarot and Oracle cards, pulls from spirit guides, faeries, as well as ancestors. Provides guidance, and insight into the energies around the current path of the questioner.
~CARDS & ANIMAL PSYCHIC COMMUNICATOR
~ KRYSTAL - CLAIRVOYANT - EMPATHIC - ORACLE CARDS - ANIMAL PSYCHIC - gifted with sight - passes on messages from loved ones.
~LORI - PSYCHIC MEDIUM. ANIMAL COMMUNICATOR, REIKI MASTER TEACHER - Bringing insight and comfort to the lives of others.
~HEALERS~
~ STACY BROWNFIELD - REIKI HEALER -Energy Work - Crystal - Sound Therapy - Shamanic Techniques. A reiki practitioner using hands on healing, working through universal energy. Combining tuning forks, Reiki and Crystal bowls.
~RUTH FRANZEN - REIKI - Healer - Quantum Touch - Angel's work through her providing and receiving message to help guide her towards your healing. A gifted healer. Messages come through spirit. Author & instructor. Trained in Reiki & Quantum touch. Enlisting the help of angels and guides to manifest.
~ LIZA - MASSAGE THERAPIST - AN INTUITIVE HEALER - Reads your body's messages - information from one or 4 of the "clairs" She receives messages with the subtle energy of the body's fascia and the energy of the spirit to facilitate. & Nurture healing in its many forms.
~GINI -SOUND IMMERSION WITH ALCHECMY CRYSTAL BOWLS - Sound/vibration practitioner, Spiritual coach, Teacher for laws of attraction - Gini has had over 5 decades of experience with healing, through both physical and energy topped with a deep dive into spirituality. Today she offers chakra alignment, coherence and more energy flow. She offers this with Sound Immersions & more. (Gini's healing work will be done in the coat closet in the lobby) - You must sign up with the ladies first.
~LAURA -REIKI MASTER HEALER, INTUITIVE GUIDE - New to our event - Welcome -Laura is a retired nurse, with a very calming energy. Works as a healer in more than one modality.
~RUTH EVERETT - EFT- ( Emotional Freedom Technique), Chair Massage - Ruth technique is about releasing negative energy, allowing freedom from stress & anxiety, addictions and grief. Muscle testing.
*OUR UNIQUE SPECIALTY VENDORS!
~BECKY SHANK - SWAN, SOAPS & SCENTS - Soaps & more made free from artificial colors and scents. Entirely made with the best natural, vegan oils to not only cleanse your skin but to nourish it and not dry it out with harsh chemicals. NEW TO OUR EVENT - WELCOME!
~JACK & SUSAN - A 1 AURA PHOTO - They're back! (Located in the lobby) What does your Aura say about you!? Get your Aura photo taken, by the best!
~ANN -GIFTS FROM THE GARDEN - Delicious, hand packed goodies. The best!
~ROXANN - RAYS OF PURPLE LOVE - Back Again. Welcome! Spiritual tools, Crystals & more
~MARTHA -THE SHAMAN AND THE BEAR - New to our event -
Medicinal Herbal Teas
~ALEXANDRIA - MERAKI STUDIOS -- Succulents - real to faux arrangements - beautiful arrangements & more
~TERI - HAREFOOTE MOON - My dear friend Teri, always a favorite. Handmade, beautifully designed jewelry. Beautifully Selected Stones! Unique pieces.
~TARYN -LOTUS & LILIES -Handmade Healing & Crystal items-. Back by popular demand, Taryn brings beautiful gift items.
~ CECE -CEE CRYSTALS - New to our event - Welcome - Healing Crystals, Unique and beautiful!
~ JOHN - PHOTOSTUFF - Custom Photo Art - Logo Gifts - A variety of gift items; just in time for the holidays. -Back by popular demand!
~ JAN - NORTHERN CURVES BOUTIQUE - Women's Apparel @ Accessories -
~ STEPHANIE - DREAMING OF PEARS - Back by popular requests and demand - - Welcome - Beautiful, unique pearls for all occasions -
~HEATHER - AGE OF AQUARIUS - Beautiful Handmade good, unique and specialty items - New to our event - Welcome
~PAULA - TASTEFULLY SIMPLE - Delicious, "tastefully simple" meals and goodies! So excited to have Paula with us!
~ SUSAN - RST ASSURED DESIGNS LLC - Custom Designs- T-shirts, Canvas bags and more! New to our event! Welcome!
~ GINNY & DARLENE - PRESSED FLOWER DESIGNS - NEW BEGINNINGS - Mother and daughter team - Pressed Flower Designs - Wedding invitations, Custom orders - Ginny also brings her talents to our event as she presents her own children's books. Just in time for the holidays!
~ JUDY - PESKY SQUIRREL - Antiques & Curiosities! Back by popular demand!
~ MYTRICE - TRICE'S PLACE OF HEALING - Gemstones and other healing stones - New to our event! Welcome.
~TERESA EAGLE-MAN - Do Terra - Always a favorite - Essential oils, diffusers, supplements, Teresa is new to our event - Welcome!
~LIZA - THE ZEN LOTUS - Energy Crystals - Beautiful Spiritual related Jewelry & more.
~DEB - GARDENDAZE - Stained Glass, Prism, Sun Catchers, & So much more!
~CAROLYN - QUARTZ 'N CRYSTALS - Gemstones, Jewelry, Loose Crystals, Carvings, Spheres and Towers
~SHELBIE - FROMGOATTOSOAP - Simple - Natural-Clean Soap - Bar Soaps, Dog Soaps - So excited to have her with us. New to our event! Welcome!
~SARAH - PURPLE MOON APOTHOCARY - Metaphysical items, Gems, Incense & more! New to our event. Welcome!
~JULIE - MOONSTAR ARTISAN JEWELRY - Smudge feathers, Sage, Handcrafted Jewelry with a metaphysical meaning.
~TYHISHA - BETRU2YOU- Beautiful intention bracelets, Crystals, & More - New to our event - Welcome!
~DANNY & JENNY - META MINERALS & MORE -a local unique business with minerals and rocks - we welcome Danny and Jenny to our event.
~INDIGO MYSTICS - New to our event, specialty items. Unique and different! Welcome!
*THE WANDERING BEAN FOOD TRUCK
WILL BE WITH US TO SERVE YOUR COFFEE NEEDS~
Admission $7.00 'cash only' at the door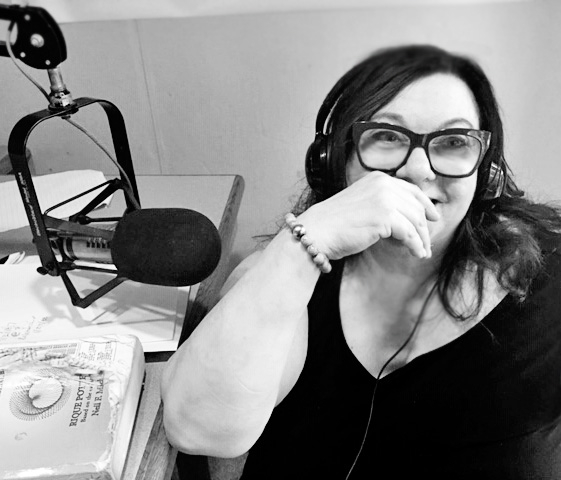 Join me and Eric Chase for our weekly podcast! And with Denny Schaffer, Suzi and Paul every Monday ,  93.5 FM, 8:10 AM until 8:20 AM, text or call 419-240-1935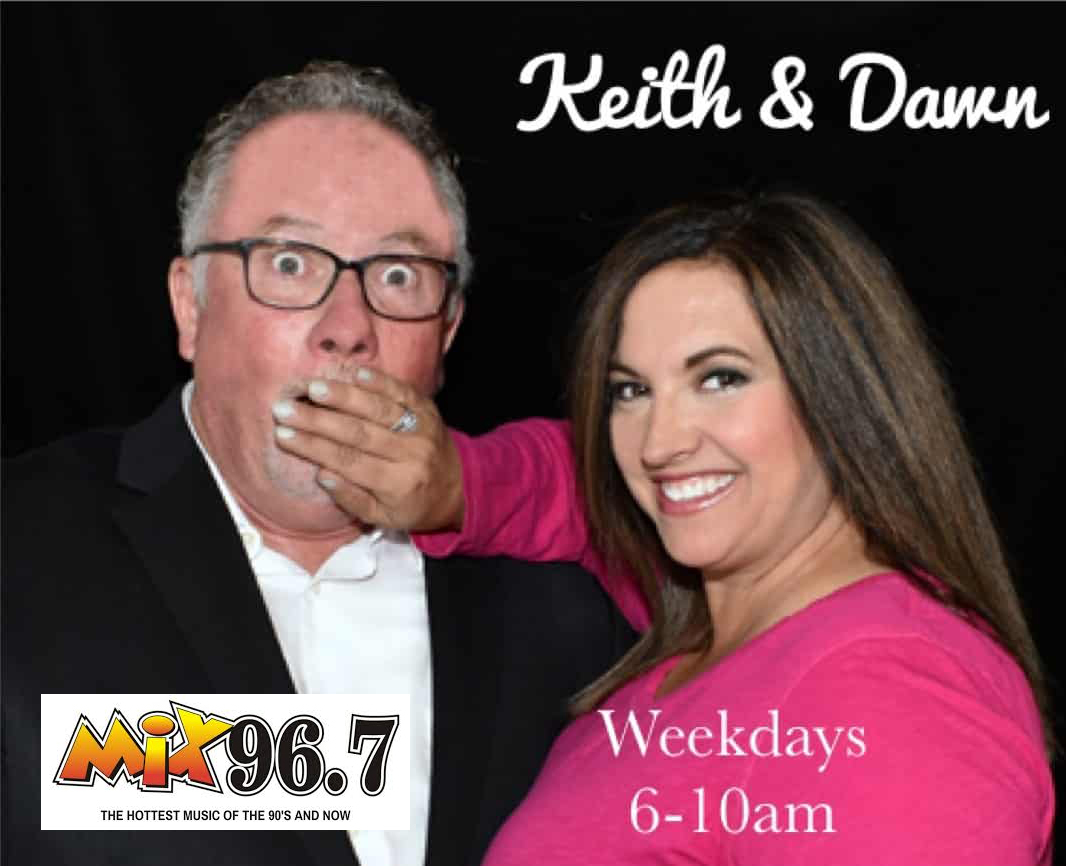 LIVE on the radio Every Month
Call in every 2nd Wednesday on CLASSIC HITS with Dawn -1-888-561-2837- 7:30 AM to 8:30 AM as I take your calls live!
Give your guests a unique experience, book Janet for your upcoming event or party.